Here's a follow-up to the interchangeable flip-flop post here…….
That was a crazy day and looks like I left a few things out.
First of all, I bought all of that ribbon at Michael's.
Also, I glued the flowers and bows to the flip-flops………I didn't sew them.
Next, I don't have pictures to show the process of the black ruffle flip-flop, but all I did was make the ribbon 'V' with the velcro sewn to the bottom side. Then I made another 'V' shaped ribbon out of the same black ribbon but madethe length of the ribbon, twice as long as it needed to be to fit on the flip flop. Then I made a basting stitch from the point of the 'V' down to one of the ends and left the threads long. Then I made a whole separate stitch starting at the tip of the 'V' again, but then down the other end of the 'V'. Then I pulled the top threads for each basting stitch and created a gather. (Need more help with this concept? Visit this post here.) Then I adjusted the gather to fit evenly right on top of the 'V' shaped ribbon with the velcro already attached. Then I stitched all of the layers together, right on top of my basting stitch…….making sure to back-stitch at both ends. That's it. (Sorry for no pictures.)
Next, the green flower on the zebra ribbon.
(***Please note that there was no science to my method, but I'll show you exactly what I did. You may have to adjust and adapt as you go.)
All I did was use a piece of scrap knit that was about 15 inches long by 2 inches wide.

I bunched up one end…

…and placed some hot glue on it.

Then I tucked the end under and pressed it under the strip of knit, to start the center of my flower.

Then I twisted the loose end just slightly…

……and then added a little dab of glue as I tucked this section around and then under the center.

Then I twisted a little bit more of the loose end (only slightly)…..

….and then added another dab of glue as I attached it right to the flower. (only use a dab of glue at a time….because it sure is easy to make a mess with hot glue if you use too much.)


**As you can see, sometimes I put the twisted section kind of under the edge of the flower, sometimes along the side, and other times a bit over the top. Just play around with it.
Then I continued this process…..

Until I got to the very end and tucked the end under the bottom.

Then I cut a piece of felt just a bit smaller than the flower and glued it to the bottom of the flower. This will keep all of the flower together and keep it from pulling apart.


That's it.
Every flower will kind of look different but just keep at it and they will look just fine.
Lastly, the black fluffy flower on the toddler flip-flops.
I used some no-fray chiffon….but you could also use tulle, or even knit or cotton.
First I cut squares that were maybe 2.5 x 2.5 inches. And I cut maybe 16-20 of them.

Then I folded each square in half and then in half again…..so into quarters. And I held it by the bottom corner fold.

And then cut a petal shape out of the top of the chiffon…..

…….so that when I opened it up, it looked like a 4 petal flower. (You could just cut out flowers….but this technique took a lot less time. And none of them were perfect or exactly the same size as the next one. So don't worry about that.)

Here's the whole group of them.

Then I folded a flower in half, then in half again…..just like the original shape that I had it in to cut it out. And I placed 2 of them together at the bottom tip and made a few stitches in the bottom to keep them together.

Then I added 2 more at a time and attached them to the first….using a few stitches to keep them in place.

I went around and around the flower, adding 2 more at a time…..creating a fullness to the flower.

Until it looked full enough. (Now there may be an easier way to do this and you don't even have to curve the pieces into a flower shape. I just liked the curve of each piece, making it look more like a petal.)

And not only can you add it to a flip-flop…….it makes a great accessory to add to a hair clip.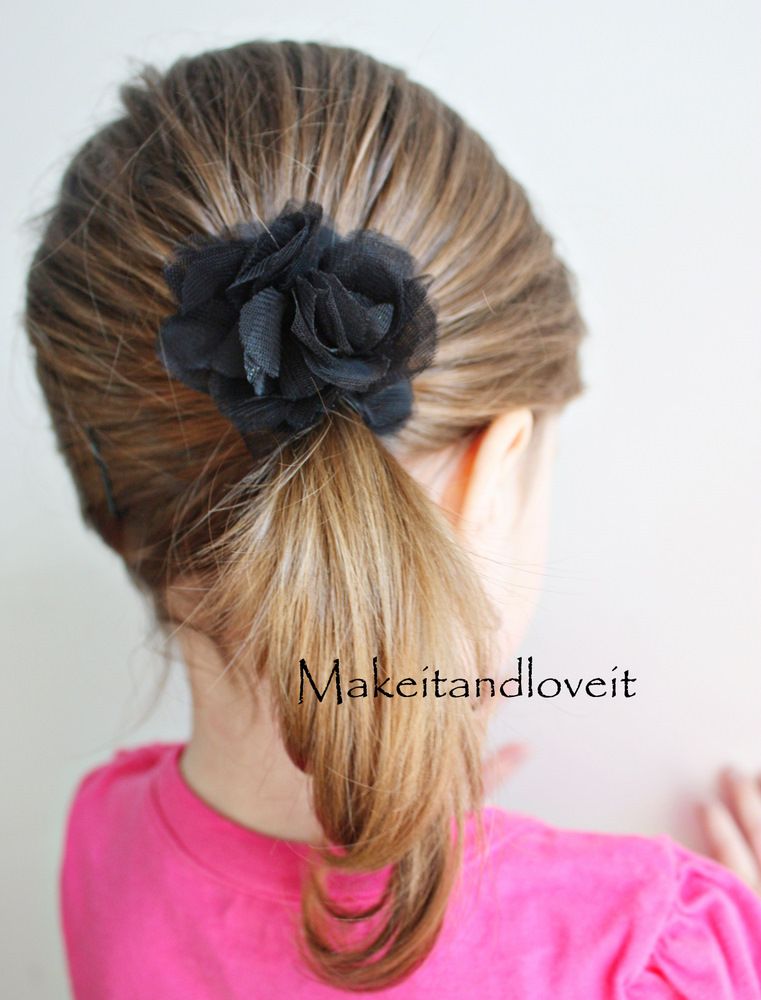 Nice and sweet.